Needless to say, Kylie Jenner, the youngest member of the Kardashian clan, is an inspiration to many. There's a reason she's the third most followed person on Instagram. Known for her pouty lips, flawless skin and killer body, Kylie has some of the best beauty tips up her sleeves and isn't shy about sharing them with her fans.
Kylie Jenner is a reality TV star, makeup giant, youngest self-made billionaire according to Forbes and a mom, all while she's only 22 years old. One post on her Instagram is enough to get everyone talking about it. Whether she's wearing stunning makeup or showing us a completely bare face, she looks equally beautiful and charming either way. She follows a simple yet effective beauty routine to get her radiant complexion.
Kylie Jenner's trick to make her makeup last all day
Kylie Jenner is known for her very elaborate makeup looks and her flawless complexion. According to an Internet user, there is a very easy trick to replicate the looks of the star.
Want to have the complexion of Kylie Jenner? Stars use a lot of tricks to make their makeup last all day, hide small irregularities and have a doll-like complexion. According to a user of Tik Tok, the youngest of the Kardashian clan has a technique of her own to make her concealer last all day and ensure a natural look, and no it's not putting eyeshadow base under her concealer. In a video seen more than half a million times, an internet user who answers to the username avonnasunshine, explains, "I've always loved the way Kylie's under eye makeup looks, I've heard that her makeup artist uses a pink powder to achieve this look." The benefits of this technique? According to the young woman, using this product would not only bind blush, concealer and (eventually) contouring, but also make the makeup last longer.
If you don't have pink powder on hand? Avonnasunshine offers a rather efficient alternative to reproduce Kylie Jenner's look: once you're done with your makeup, you dip your beauty blender or brush in pink blush, then in a translucent powder. It then comes to dab the under eye to fix the concealer and illuminate the face. Result?" You can see how this technique gives a good look and binds the makeup, "says the young woman. And we must admit that we are conquered by her demonstration.
Here are the most important tips that Kylie Jenner follows for her makeup and beauty.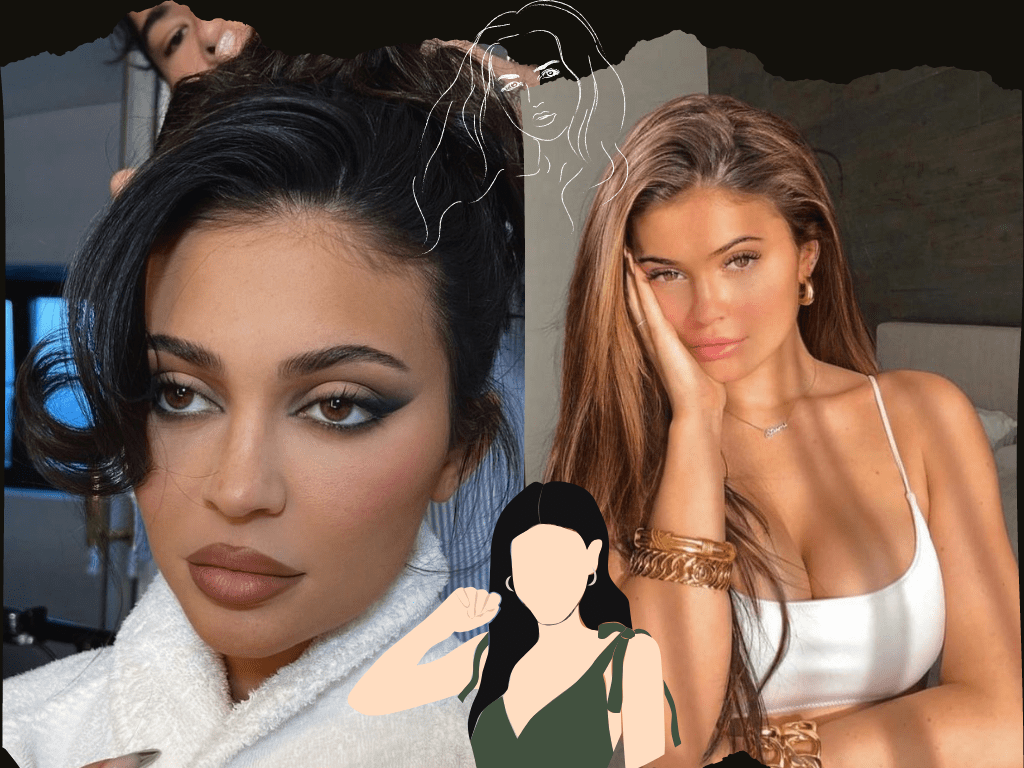 Find also takediy.com :
1. Makeup your eyes first
This makeup tip has become a favorite among makeup lovers lately. Apply eye shadow before foundation, that way if there is any fallout, it won't mess up your base makeup. Kylie suggests using tape to get clean, symmetrical wings.
2. Apply illuminator before foundation
Kylie Jenner recommends applying highlighter before foundation. This altered order will give your skin a luminous glow from within and make your skin look dewy. According to her, the main areas to highlight are your cheekbones, the tip and bridge of your nose, and your cupid's bow.
3. Use a damp beauty sponge to avoid pasty makeup
This is a tip that not only Kylie, but makeup artists everywhere will recommend. Use a damp beauty sponge to set your powder, it gives you a natural look and keeps your makeup from getting mushy. Follow this tip to apply foundation, concealer or setting powder and watch your makeup game go to the next level!
4. Apply your moisturizer with a brush
Kylie Jenner swears by moisturizing and keeps one in her purse to keep her skin hydrated and moisturized throughout the day. She recommends applying a moisturizer or serum with a brush, as applying products by hand can cause unnecessary tugging, leading to fine lines or wrinkles later on. We're a little curious to try this, how about you?
5. Take a break and leave your skin without makeup some days:
One of the most important beauty secrets for Kylie is to avoid makeup, and she believes that the key to good skin is avoiding the application of chemicals on it and staying away from makeup gives the skin time to recover.
6. Just blush:
Instead of looking overloaded with makeup, many times Kylie opts for a natural pink look and applies pink blush only to her cheeks. To get the look you love, use an orange blush before applying the pink.
7. Follow your skin care routine every day
Kylie prefers to stick to a simpler, easier to follow daily skincare routine. She starts her day with a CTM (cleanse, tone and moisturize) and applies sunscreen to her face and hands diligently before going out. She also advocates removing makeup at the end of the day even if you're tired to the bone. We love a simple skincare queen!
8. Concealer is perfect for defining your eyebrows and for maintaining your blush color too:
For Kylie, some products have multiple uses. Concealer is not only used to hide dark spots and blemishes, but you can use it to define your eyebrows as well. Kylie likes to use lip liner over blushes because it lasts longer, and she recommends applying some concealer on blushes to set it in and keep it going all day.
9. Washing her hair every day is unacceptable:
Kylie used to wash her hair on a daily basis until she felt that it stripped it of its natural oils and made it dry. From here, she washes her hair once every two days and uses Moroccan Oil Shampoo & Morocco Argan Oil.
10. Control pimples by drying them:
Kylie suffers from acne like many, and her quick trick to get rid of it is by using Mario Badescu Dry Lotion and applying it directly to the pimples.