Is your hair dry and brittle? It definitely needs a good nourishing mask to restore its suppleness and shine. Here are our homemade recipes and tips for a dream mane.
Your hair is dull, rough to the touch, tangles easily… No doubt about it, it's dry or even extremely dry! It's a problem that many of us suffer from, but we assure you that it doesn't have to be that way.
The main problem of rough and unruly manes is the lack of sebum. On this type of hair, the scalp doesn't produce enough or has trouble distributing it to the lengths. Without this protective dose of sebum, the hair becomes more fragile, breaks easily and loses its shine.
The causes of this lack of sebum can be varied: first of all, they are inherent to the nature of the hair. For example, we know that curly hair is more often dry, because its curl does not allow the circulation of sebum. External factors also come into play: the sun, wind, salt water or the pool can be responsible for dry hair. And of course, your (bad) beauty habits can make your hair more or less dry, such as excessive bleaching, blow-drying or straightening your hair too hot, tying it up too tightly, etc.
To regain supple, shiny hair, you'll need to banish these bad habits and, above all, pamper your hair as much as possible with the right care.
The golden rules for applying a hair mask correctly
No matter how well you apply the best hair care product to your hair, if you don't do it correctly, you won't see any results. There are a few rules to know in order to get the most out of your hair mask. You can apply your mask before or after your shampoo, it doesn't matter. On the other hand, you must make sure to wring out your hair perfectly, so that the treatment does not slide down your lengths and does not penetrate the hair fiber. Place a small amount of product in the palm of your hands and distribute it strand by strand, from the lengths to the ends. Insist on the ends, because it is this zone which is most often concerned by the dryness. Then, it will be necessary to respect the time of pose, from 10 minutes to 30 minutes if necessary. To increase the benefits tenfold, you can cover your head with a warm towel while you wait. Then rinse your hair with warm water and finish with a cold water jet to tighten the scales and boost shine.
To Read :
Our best hair mask recipes for dry and damaged hair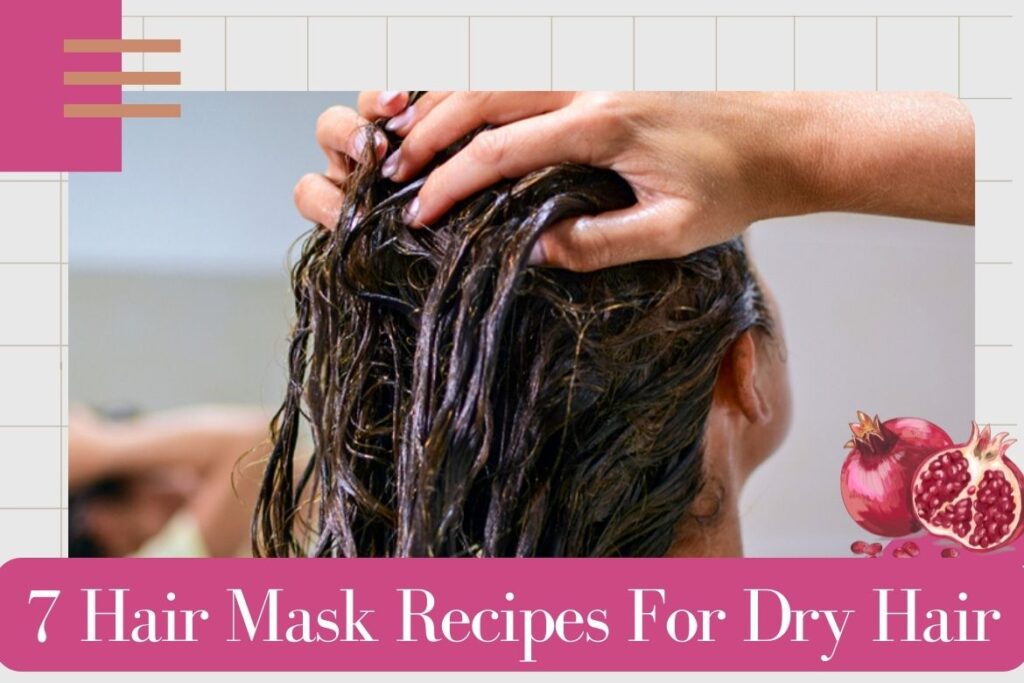 Hair Mask N°1. A nourishing mask with plant butters
For deep nourishment, vegetable butters are unrivaled. We particularly like shea butter, because it is rich in fatty acids and vitamins A and E, perfect for protecting, softening and moisturizing the hair fiber. Combined with ylang ylang essential oil, it's the perfect cocktail for strong and shiny hair.
You need: 2 tablespoons of shea butter, 1 tablespoon of mango butter, 1 tablespoon of cocoa butter and 2 drops of ylang ylang essential oil.
Start by melting the butters in a water bath. Remove from heat and let cool. Then add the ylang ylang essential oil and mix. Apply the mixture on the lengths, and leave it on for 30 to 50 minutes, if possible under a warm towel. Rinse, then proceed to shampoo.
#2. An anti-breakage mask with egg yolk
This nourishing hair mask from BuzzFeed gives your hair a boost with egg yolk, honey, and coconut oil to restore moisture, protein, and shine.
Egg yolk is one of the star ingredients in our beauty recipes. And for good reason: it's packed with vitamins, minerals, antioxidants and trace elements. On our hair, it brings shine, strength and nutrition.
"Eggs work as a cleaning agent because of the lecithin they contain, and it can produce healthier tresses due to their high volume of protein," explains Lucy Aitken Read at Cosmopolitan.
You need: 1 egg yolk (preferably organic), 1 tablespoon of borage oil and 1 tablespoon of linden hydrolate.
Beat the egg yolk with a fork and add the borage oil in a thin stream as if you were making a mayonnaise. Finish by adding the lime blossom hydrolate and mix again. Spread the treatment on your dry hair, from the roots to the ends. Leave on for 30 minutes, then proceed to shampoo.
Hair Mask N°3. An avocado shine mask
Rich in essential fatty acids and vitamins A, E, B6 and C, avocado is an excellent nourishing agent for dry hair.
You need: 1 avocado, 1 egg (preferably organic), 1 tablespoon of honey.
With a fork, mash the avocado flesh. Add the egg and honey and mix well. Apply to damp hair, from ends to ends. To boost the effects, wrap your hair in plastic wrap and leave on for an hour. Rinse with warm water and shampoo.
#4. A repairing oil bath
Some oils can work wonders on dry, damaged hair. Argan oil is known for its regenerative and protective powers on hair.
You need: 2 tablespoons of avocado vegetable oil (organic), 1 tablespoon of argan vegetable oil (organic) and 3 drops of essential oil of ylang ylang.
Mix the oils together and spread over your damp hair. To not forget any zone, work strand by strand, insisting particularly on the ends. Leave on for at least an hour (overnight is best) under a towel. Rinse with warm water and then proceed with your shampoo.
Hair Mask N°5. Anti-forking cream with banana
The benefits of banana for the hair are numerous: it nourishes, repairs, brings flexibility and stimulates the growth. It is particularly recommended for textured and damaged hair, as it helps to redefine curls.
You need: 1 egg yolk, 1 ripe banana, 1 tablespoon of olive oil.
In a small bowl, mashed potato the banana into a puree. Add the egg yolk and olive oil and mix until smooth. Spread the mask from the roots to the tips and leave on for 20-30 minutes. Rinse and shampoo.
#6. A moisturizing mask with aloe vera
Aloe vera is another star ingredient in hair beauty. Consisting of 98% water, but also rich in vitamins, minerals, amino acids, this miraculous plant provides moisture, nutrition and repair to your hair.
You need: 2 tablespoons of aloe vera gel and 2 tablespoons of coconut oil (substitute coconut milk if you don't have any oil in stock).
In a small container, mix the gel and coconut oil until you have a smooth texture. Spread the mask on your wet hair, from the lengths to the ends. Leave the treatment on for 15 to 30 minutes, depending on your time. Rinse and wash your hair with your usual shampoo.
Hair Mask N°7. A curl-activating mask with olive oil
If you want to get your curls back in shape, all you have to do is reach into your kitchen cupboards. Olive oil is a great ingredient for nourishing curls and making them shine.
You'll need: 1 can of pure coconut milk, 1 ripe avocado (can be replaced by an egg yolk if you don't have any avocado in stock), 2 tablespoons of honey and 2 tablespoons of olive oil.
In a bowl, mash the avocado with the back of a fork. Add the coconut milk and mix. Finish by adding the honey and olive oil to the mixture and mix thoroughly. Apply the creamy treatment from the scalp to the ends and leave on for 20 to 40 minutes. Rinse well with lukewarm water and finish with a spray of cold water to activate the shine.
To Read :