Tips and tricks of all kinds abound on TikTok, to the point where you have to constantly sort out the real from the fake to detect the (real) trends of the moment. Fortunately, when professionals get involved, a banal hashtag can turn into a real phenomenon. This is the case of the "monochrome makeup", a luminous beauty with a natural look, which is already making the counters go wild on the Chinese social network.
A single color for the entire face. This is the principle on which the "monochrome makeup" is based, which seems to be unanimously accepted on TikTok.
Adulated by the most famous makeup artists on the planet, like Mario Dedivanovic, founder of Makeup By Mario and incidentally Kim Kardashian's regular makeup artist, this natural beauty look is the source of several million views on the social network (4.4 million for #monochromemakeup, 16.4 million for #monochromaticmakeup), and is (already) qualified as the star makeup trend of the fall.
To Read :
One color, many possibilities
The more the months go by, the more our beauty kits seem to unload the weight of a routine that was previously far too elaborate. In search of a more natural, more authentic and – why not – more economical beauty routine, TikTok users are competing with each other in terms of ingenuity and imagination to offer soft and light makeup without having to cut back on either the look or the style.
This is the case of the "monochrome makeup", which requires no technique, no specific tools, and no large quantity of makeup, and offers a soft, natural, and luminous beauty. An effortless glow that has already won over millions of users around the world.
The "monochrome makeup" translates into a unified beauty look thanks to the use of a single color on the strategic points of the face, namely the eyes, cheekbones, and lips.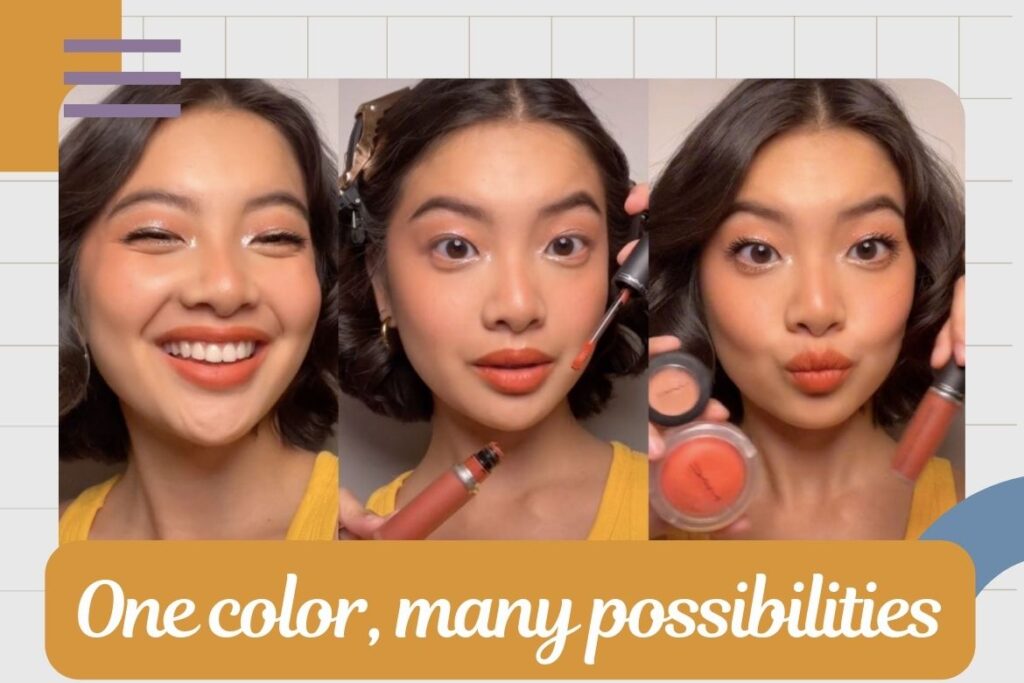 On TikTok, we can however discover that some use a single shade, while others turn to a family of colors. Similarly, it is possible to use three different products (eyeshadow, blush, lipstick) or 3-in-1 products that will fulfill all your expectations without hurting your wallet.
Autumnal shades
On the palette side, while pink is currently very popular, makeup artists are starting to roll out the list of fall shades that will be a sensation in the fall. Apricot, terracotta, bronze, brown, nude or peach are among the most popular colors.
More generally, to go natural, it's best to opt for earth tones, or colors inspired by nature (except for green), for a more harmonious look. On the other hand, we avoid shades that contrast with our skin tone, such as flashy tones, for example.
Here's Everything You Need To Know To Master This Look!
Attention makeup artists, bloggers and Kim Kardashian fans, the monochrome makeup is back! So, if you're asking yourself the question "What makeup should I wear for the fall/winter 2022-2023 season?", you already know the answer. Go for monochromatic eyes, with sparkle, but without overload! Say goodbye to heavy materials and matte finishes, and make way for pinks, oranges and mauves for a healthy glow. How to adopt the makeup trend of the hour? We'll tell you everything you need to know to master it without any false notes!
The monochrome make-up or the make-up trend that we will see everywhere this winter
Of course, flashy and pop colors have been in the spotlight for a few seasons now. However, they are about to be dethroned by a trend that is taking more and more place in the wonderful world of beauty. If we have to choose only one makeup that will dominate the coming months, it will undoubtedly be the monochrome look! For those of you who don't know what we're talking about, monochromatic makeup consists of using a single shade on the eyes, cheeks and lips. The idea behind this new contouring technique? Enhance skin tone, define cheekbones, sublimate lips, create a healthy glow and enhance natural eye color. So get your favorite nude palette out of the closet and grab your brushes! From salmon pink to bright orange to brown tones, the star makeup of winter 2022 offers a multitude of stunning looks. How to use it!
To Read :
How to do monochrome makeup like a pro?
More and more appreciated by stars and make-up addicts, monochrome make-up was very popular a few decades ago. Since then, it has been forgotten and is slowly making a comeback… and we like it. However, getting a monochrome look is not an easy task. The secret to succeed without missing is to know your skin tone. Thus, it will be easier to choose the shades that will blend best on the face. The idea is not generally to opt for a pop of makeup, but rather to find one that will sublimate the face. In this case, it's best to go for peachy tones (orange, pink, etc.) or burnt earth tones (beige, mahogany, terracotta, etc.) to enhance the shades already naturally present on the skin.
a quick and easy tutorial
As you can see, the main objective of the monochrome makeup trend is to work on the lips, cheeks and eyes. To make up your eyelids, take inspiration from your skin's undertone by turning to peachy pink or more woodsy shades.
Next, apply a sheer base and your chosen shadow, blending it all over the lid and lower lash line. Add mascara and eyeliner to intensify the look. If you have chosen a matte look, on the lips and cheekbones, opt for an iridescent texture. On the other hand, if you have chosen a shiny blush, prefer more matte textures for the mouth and face.
As for the complexion, the monochrome make-up requires a clean and well worked complexion. So erase these small defects (signs of fatigue, redness, pimples, etc.) with a good corrector. As for dark circles, we remind you that they are no longer hidden this winter. Finally, use a powder foundation for a successful peach skin effect.
To Read :
7 Monochrome Makeup Looks To Try
From bold orange to salmon pink to brown hues, the monochromatic makeup trend offers changing beauty options.
This beauty technique works in any season and it doesn't require you to be an expert to implement. Simply choose products in your desired shade range and apply them to accentuate your facial features, or even use the same product on two or even three areas for a better monochromatic effect. Depending on which shades you prefer, you can go for a fresh salmon pink theme or a rich 90s-inspired brown. Here are seven ways to wear the monochromatic makeup trend to try this year.
Monochrome Makeup, bold orange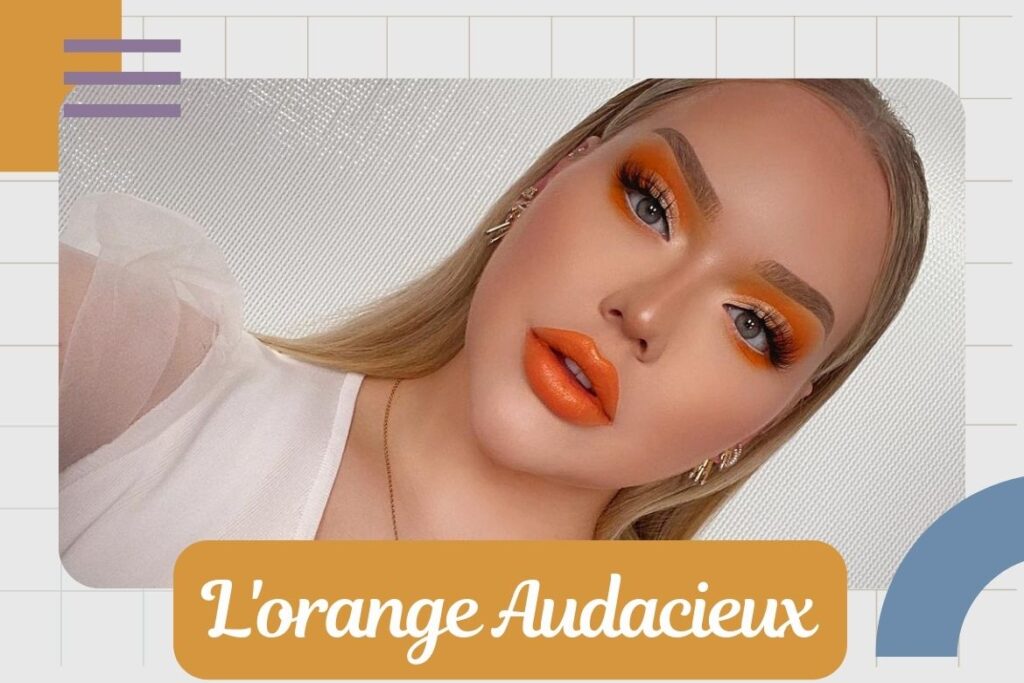 This monochromatic burnt orange makeup is not for the faint of heart. These intense orange undertones will warm up the skin while standing out.
The intense peach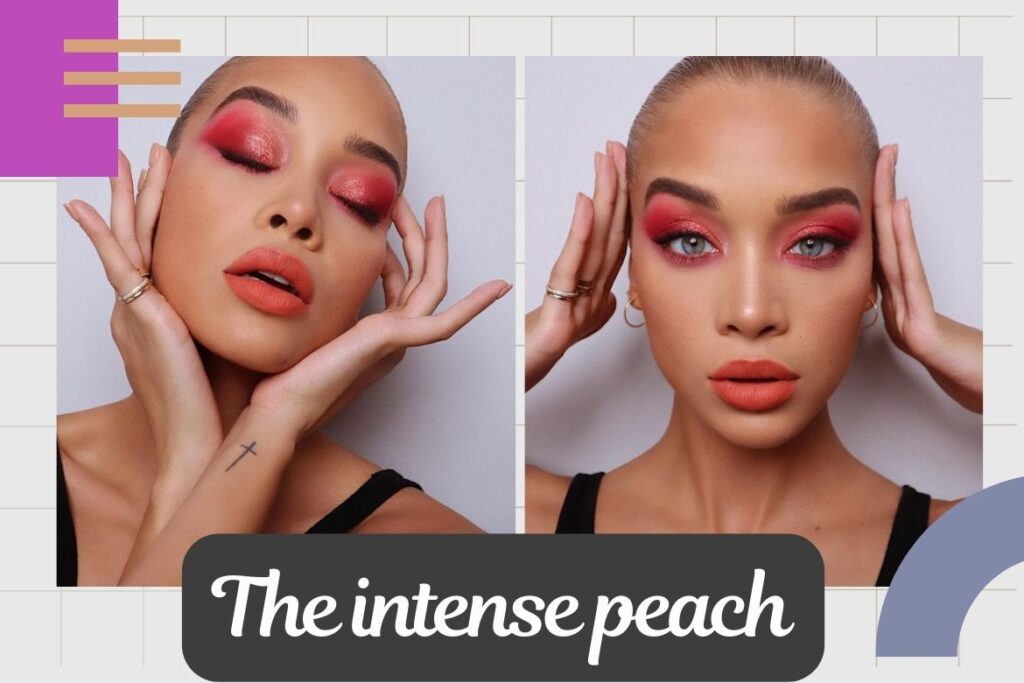 Makeup artist Hung Vanngo gives us a lesson in peachy makeup colors. If you're looking to increase the warmth of your skin, but without being completely tanned, it's best to opt for shades of peach that are a little brighter. Orange pink is suitable for all skin tones.
Monochrome Makeup, Deep burgundy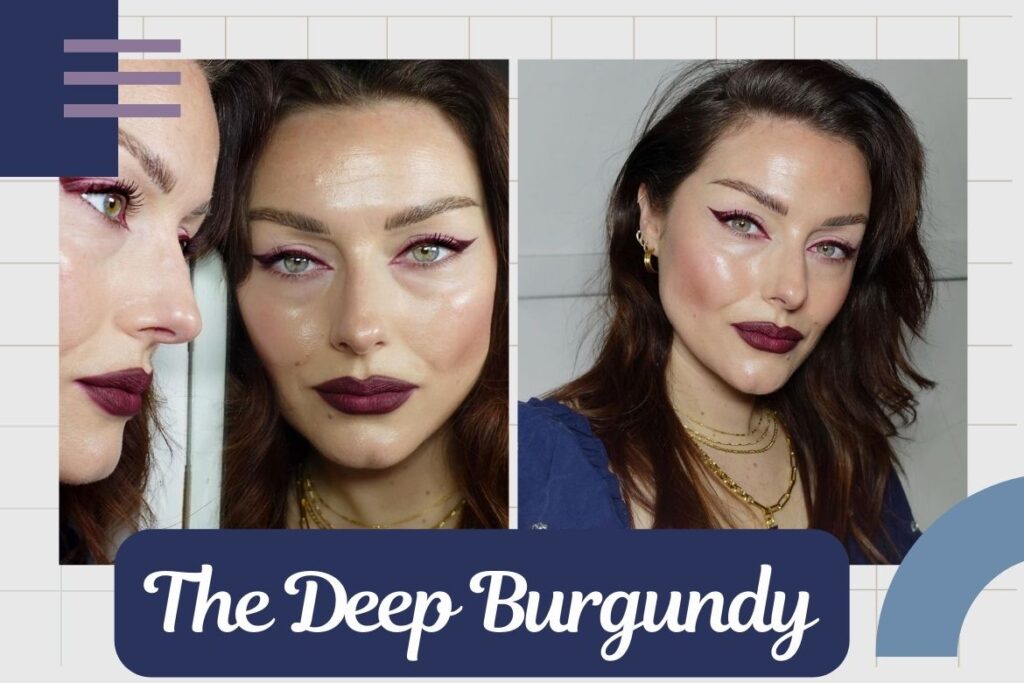 Professional makeup artist Katie Jane Hughes used lip pigment in a dark berry hue on her lips, cheeks and as eyeliner for a monochromatic makeup look, proving that you shouldn't be afraid to experiment with your products.
Hot pink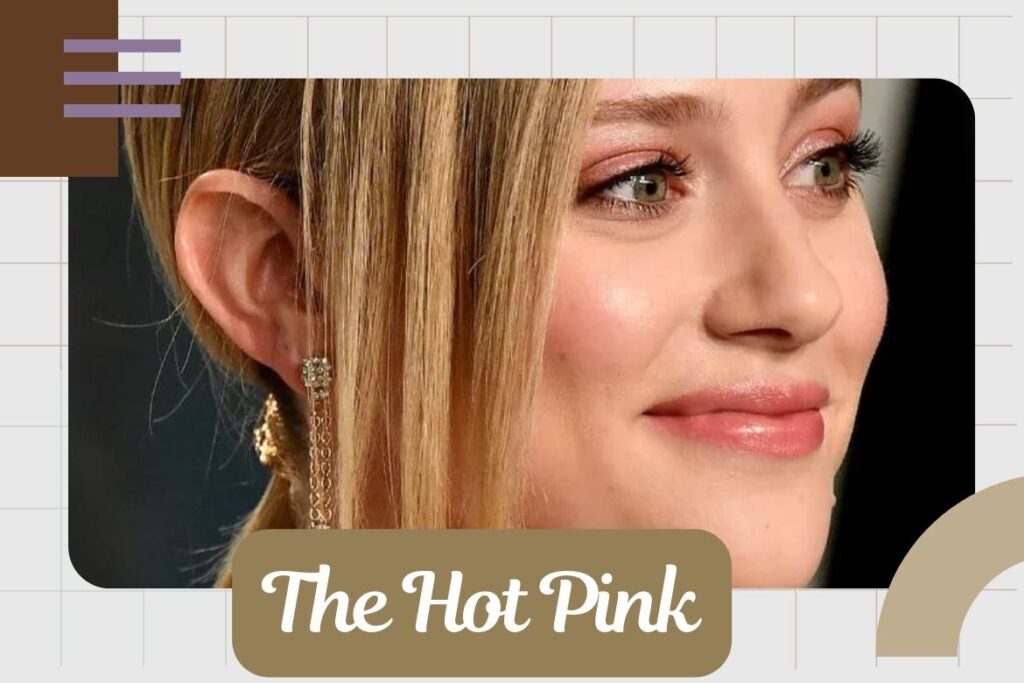 The timeless hot pink monochromatic look is always appreciated for its simplicity. A rosy blush followed by a soft pink eyeshadow and lips will instantly bring a sense of elevation and harmony.
Rich brown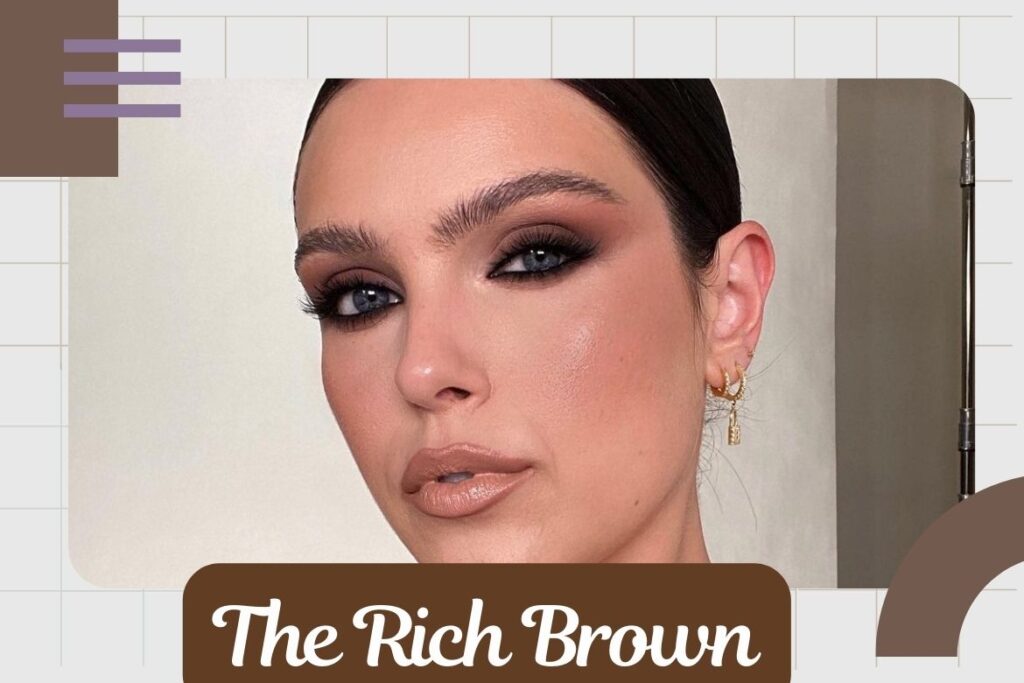 Makeup artist Patrick Ta is a pro at recreating the monochromatic makeup of the 90s. With a color scheme in deep shades of brown and a smoky effect, this dramatic sultry brown look is anything but boring.
Monochrome Makeup, Pop Purple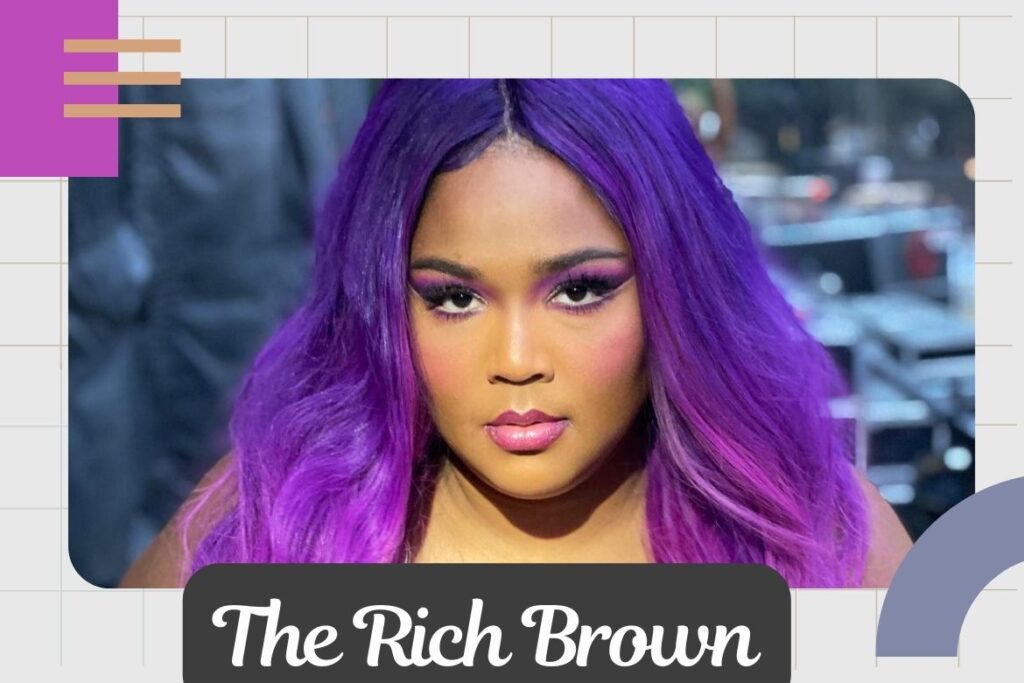 To take the color saturation up a notch, we opt for a bright, intense purple, like singer Lizzo.
Neutral nude
Soft and bronze neutrals, shiny but not golden, soft but not quite pink, are perfect for a nude look like actress Zoë Kravitz's on her eyes, lips and cheeks.
You can also find on takediy.com: