Changes in temperature, sensitised skin, skin reactions… The skin on the face can suffer from unpleasant irritations. An appropriate skin care routine can counteract these discomforts.
How To Relieve Irritated Facial Skin?
Drink plenty of water: hydration of the body depends above all on the amount of water in the body. Depending on your height, weight and physical activity, the amount of water you need to drink per day varies.
Moisturise the skin: all skin types should be moisturised, even oily skin. Applying a moisturiser every morning before applying make-up and every evening after cleansing helps to strengthen the skin's protective barrier.
Cleanse the skin: Every night before bedtime, it is important to cleanse the skin of the face with a non-stripping cleanser.
What are the consequences for the skin on the face?
Signs of redness, stinging, itching or flaking are due to an alteration of the skin barrier and the appearance of an inflammatory reaction. The porous epidermis no longer acts as a barrier to external aggression and no longer limits the insensible loss of water. The skin then loses its elasticity and suppleness, dry cracks appear, its surface becomes rough and red to the point of forming small lesions, crusts or scaling.
How to relieve facial irritation?
Good healing is the key to repairing weakened skin. The right thing to do: soothe the fire with a hypoallergenic, fragrance-free cream whose formula based on vitamin B3, or niacinamide, moisturises the cells and calms the redness. This new flagship active ingredient stimulates the synthesis of lipids which form a cement that limits water loss and fights against atopic dryness. Better renewed, these natural lipids boost the skin's ability to heal.
On particularly dry areas, applying locally an emollient and nourishing care product will limit desquamation, such as a specific lip balm if the problem concerns the mouth, or a healing cream applied in a thick layer on other parts of the face.
What skincare routine should I adopt to prevent facial irritation?
To avoid the appearance of irritation, the best thing to do is to prevent it, with a skincare routine adapted to sensitive skin.
In the morning: cleanse your face by spraying with a thermal water mist and follow with a cotton pad soaked in thermal micellar water, which eliminates dead skin and impurities without irritating. Finally, apply an anti-redness moisturiser before using hypoallergenic make-up.
In the evening: cleanse the skin thoroughly, but without stripping. A thermal water make-up remover is recommended. Then dab a few drops of Mont Blanc Essence all over the face, as a serum under the night care or alone if the skin needs nothing more than hydration.
5 Tips To Improve The Condition Of Your Skin Naturally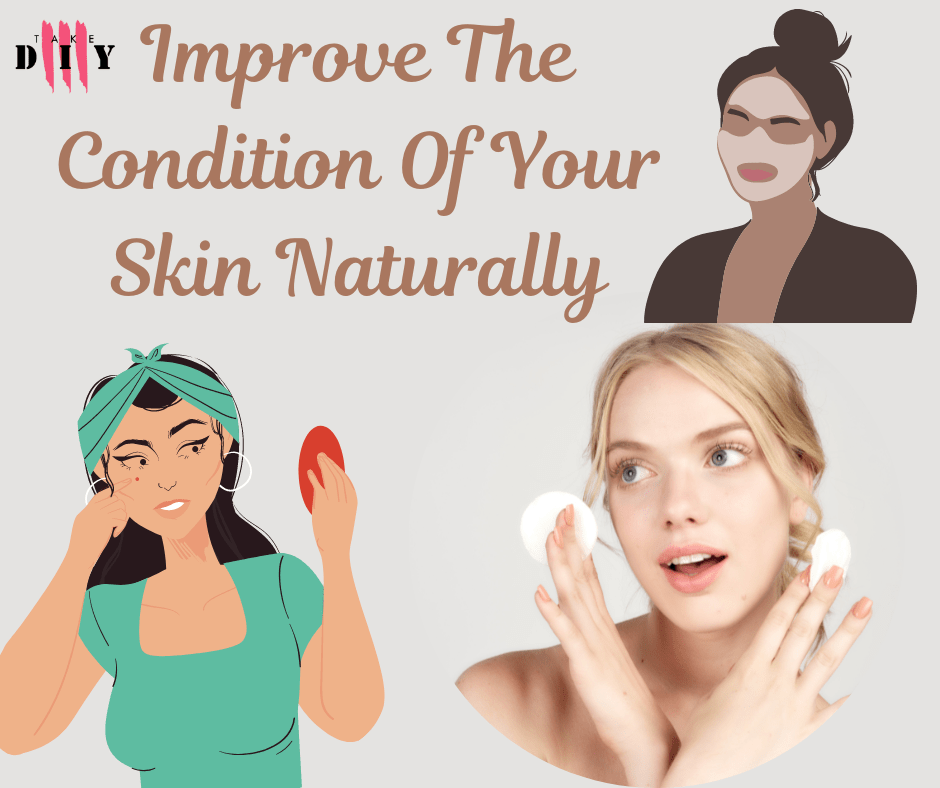 Pollution, sun, cold, stress, fatigue… Faced with external aggressions and the daily rhythm of life, it is important to take care of your skin every day. Discover five 100% natural tips to take care of your skin.
1. Cleanse and remove make-up morning and night
The first step is the most important to have a beautiful skin. Every day the skin is attacked by the outside world (pollution, dust, sun, wind, cold…) and is suffocated by the layer of make-up, perspiration as well as dead skin and residues that stick and accumulate throughout the day. This is why it is very important to clean it thoroughly every day. To do this, it is best to use natural products that respect your skin type, its PH and the hydrolipidic film (protective film covering the surface of the epidermis).
Facial cleansing must be carried out gently without damaging the skin.
2. Deeply nourish and moisturise your skin
After a good skin cleansing, the essential beauty step is to deeply nourish your skin in order to preserve its elasticity. Use a 100% natural product, preferably a non-greasy, non-comedogenic oil. Massage the product into the skin in gentle circular motions until it is completely absorbed.
Before moisturising your skin, apply a natural alcohol-free tonic lotion to tone, purify and refresh your skin.
3. Protecting your skin
Although the sun plays a fundamental role in the well-being of the skin through vitamin D, it will also be its main enemy. If the skin is exposed to the sun's rays for too long, it can lead to sunburn and even to more or less deep and serious skin damage.
This is why it is important to apply a sunscreen with an index adapted to your skin when you are exposed to the sun (it is recommended that you reapply it regularly and that you do not expose yourself to the sun at times when the sun is strongest). Every day of the year (whether on holiday or in the middle of winter) your skin is exposed to the sun, which is why it is important to choose and use daily sun protection products with SPF.
The second great enemy of the skin is the cold. Faced with it, the skin can quickly become sensitive, dry, red and tight. It is therefore important to protect it well and not to use cosmetics that could make it even more fragile.
4. Sleep between 7 and 9 hours per night
Work, sport, children… with a fairly fast-paced lifestyle it is not often easy to get your quota of hours of sleep. Depending on the individual, the recommended rest period is between 7 and 9 hours of sleep per night. This is a time that must be respected in order to let your skin breathe. For healthy skin, a healthy lifestyle is essential.
5. Use 100% natural cosmetics for the skin
We advise you to use products made of natural ingredients, such as essential and vegetable oils. The Indemne brand has a range of natural cosmetics for all skin types, even the most sensitive.
The main oils that make up the products are :
The essential oil of Cadier wood: antiseptic, soothing, parasiticide
Roman Chamomile essential oil: anti-inflammatory, painkiller, soothing
Cinnamon bark essential oil: anti-infectious, antibacterial, antifungal, astringent
Lemon essential oil: antiseptic, antibacterial, antiviral
Hazelnut vegetable oil: protective, healing, softening
Sweet almond vegetable oil: healing, nourishing, soothing…
Having a healthy skin also requires food because it needs certain vitamins such as vitamin A, B (B2, B3, B5, B6, B9, B12), C and E. But also minerals and trace elements such as zinc, selenium and magnesium and also omega-3 which help to have a beautiful skin.